Good morning Mendota 289 Families!! Attached is the information for Astra Soccer Camp. Please see the attached flyer for contact and details. This is for ALL kids 7-17.

Say "hello" to two-way messaging in the Mendota #289 app! The same district app now offers class streams, class announcements, and parent-teacher chat. Look for your personalized invitation to begin using this feature in our app shortly! Download for Android
https://bit.ly/3PeONbi
Download for iPhone
https://apple.co/3PfgQHZ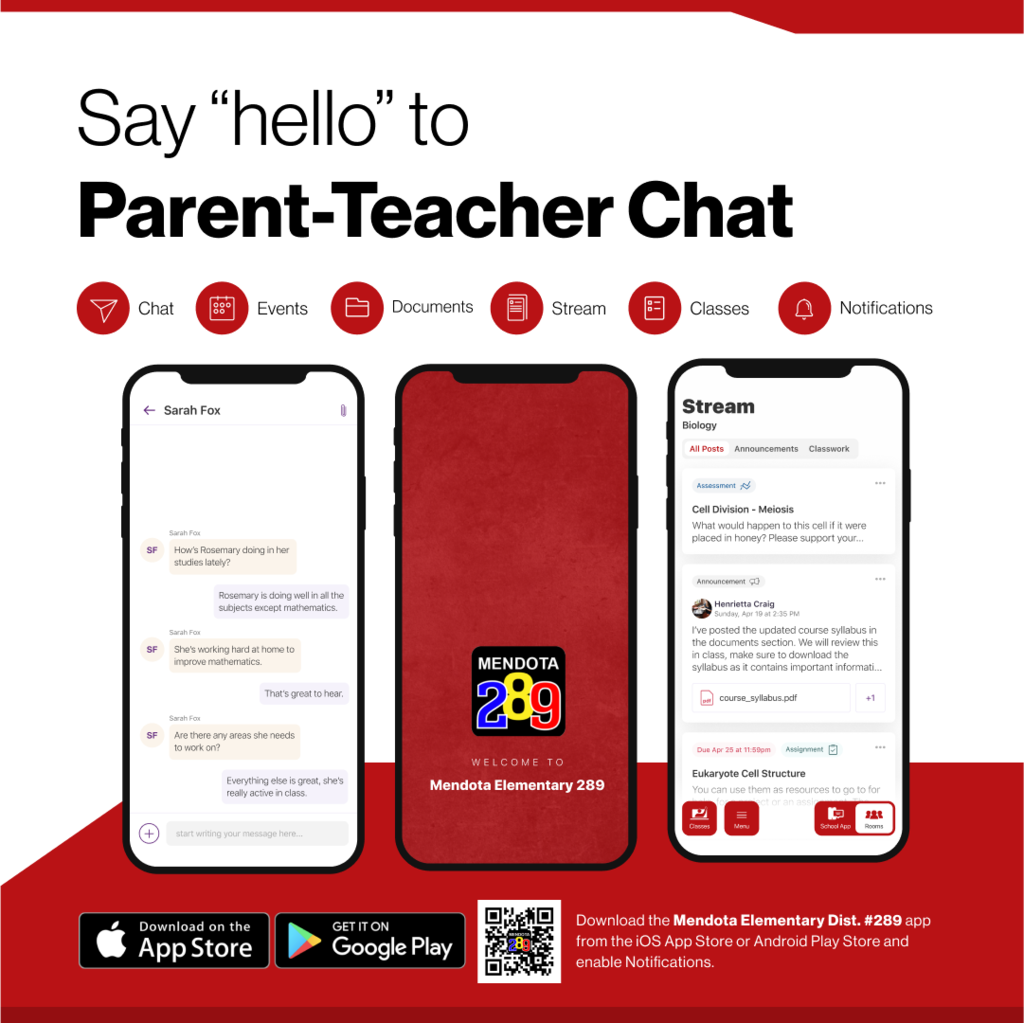 Attention 4th Grade Parents: If your student is interested in being in band when they get to 5th grade at Northbrook, please fill out this interest form. Mr. Hansen will use this document to contact you about setting up a time to try out some instruments.
https://forms.gle/iqYMEnTgegPPUM8S7

Last Thursday, State Representative Bradley Fritts (R-Dixon) welcomed three pages from Northbrook Middle School to Springfield. Briza Cervantes, Addison Perryman, and Brooklyn Baxa were all honored on the House floor and were able to experience the life and duties of a State Representative. They also witnessed the representatives in action as they held session on the House floor. "The Page for a Day program is a really great chance for young students to get involved in state government," said Rep. Fritts. "Civic engagement is vital for children of all ages and this program keeps kids engaged in the government. It was an honor to host all three pages in Springfield and I look forward to hosting more students who have a passion for government." The video on Youtube is 1:41 in length. Congratulations students!
https://www.youtube.com/watch?v=dpCteBB6Ozk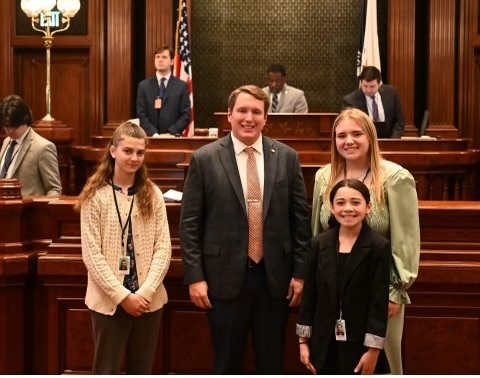 Big Shout out to Mendota's lone State Qualifier Mariyah Elam. Mariyah finished 4th in the High Jump Saturday by clearing the height of 4-11" on her first attempt sealing a 4th place finish. This height was a personal record along with a SCHOOL Record!!! Congrats Mariyah we're all so proud of you!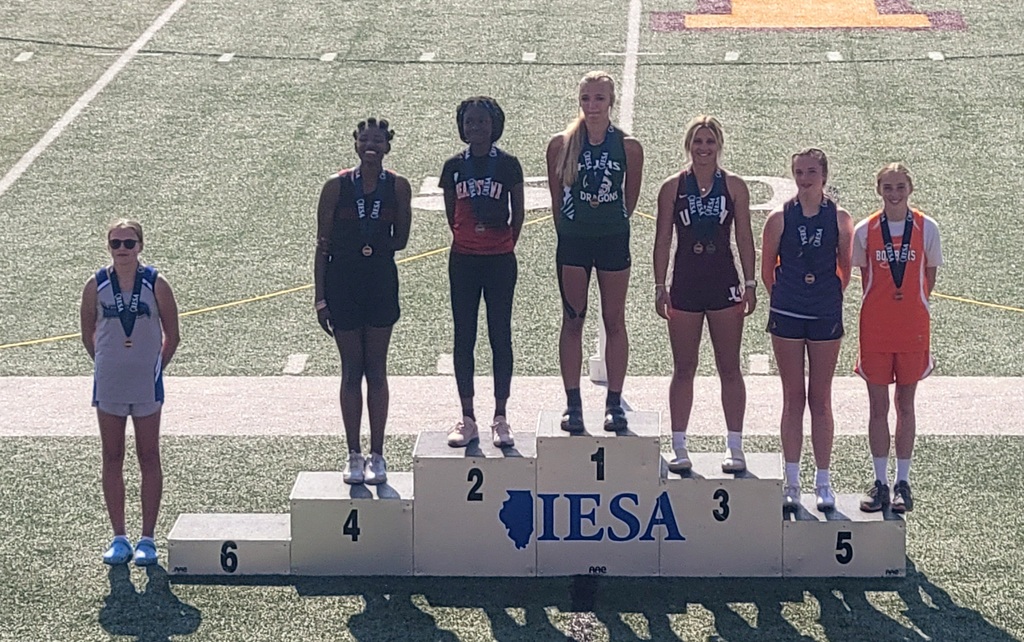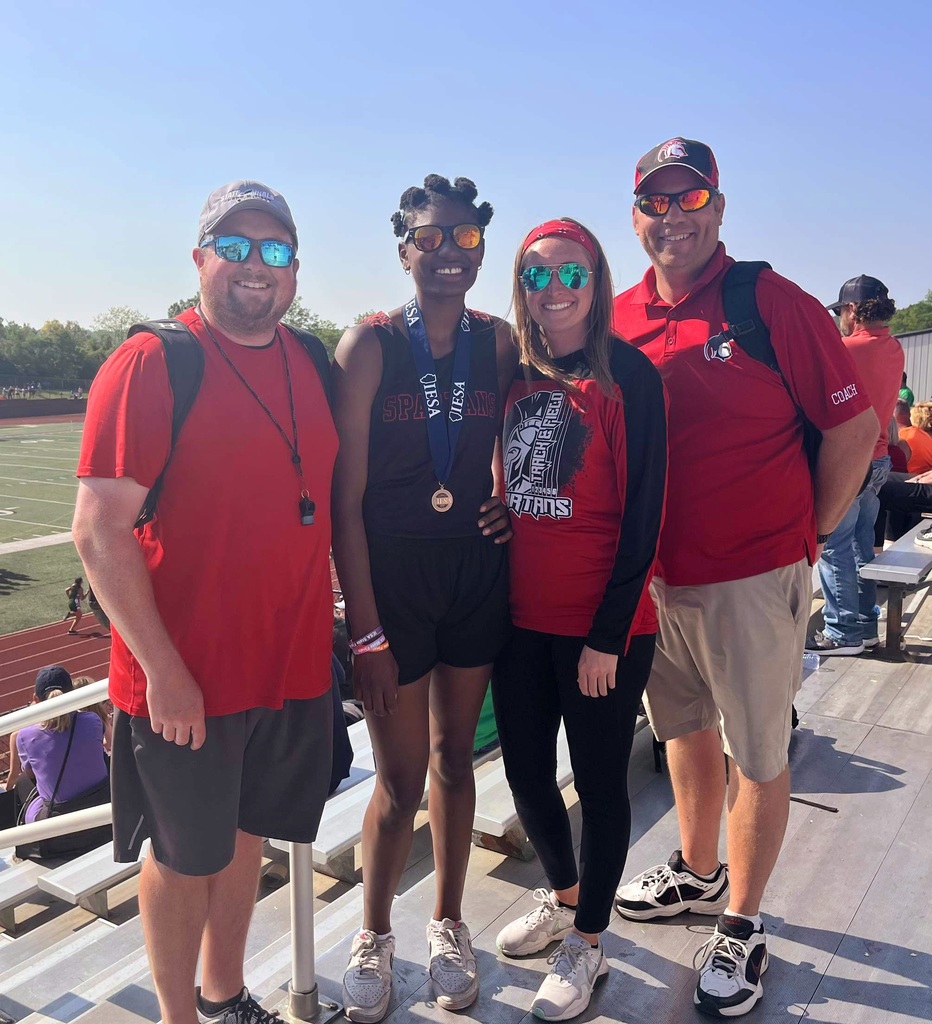 Board Vacancies!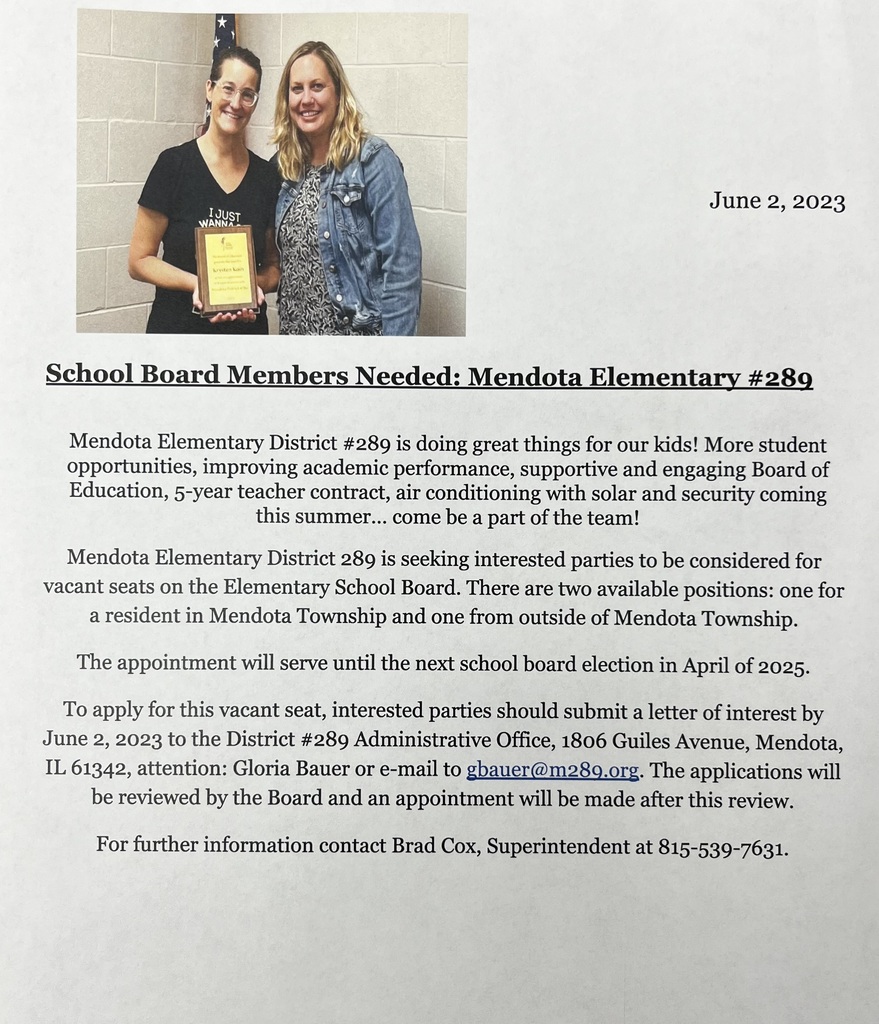 Congrats to the Northbrook 6th-8th Grade High Honor 4.0 Recipients!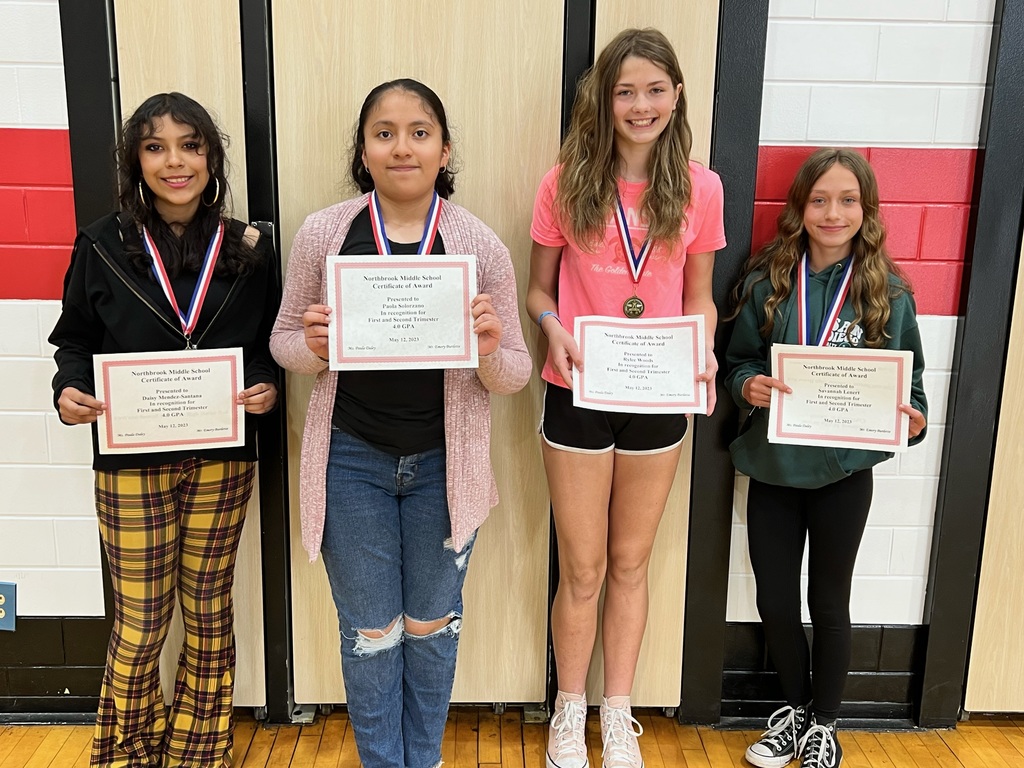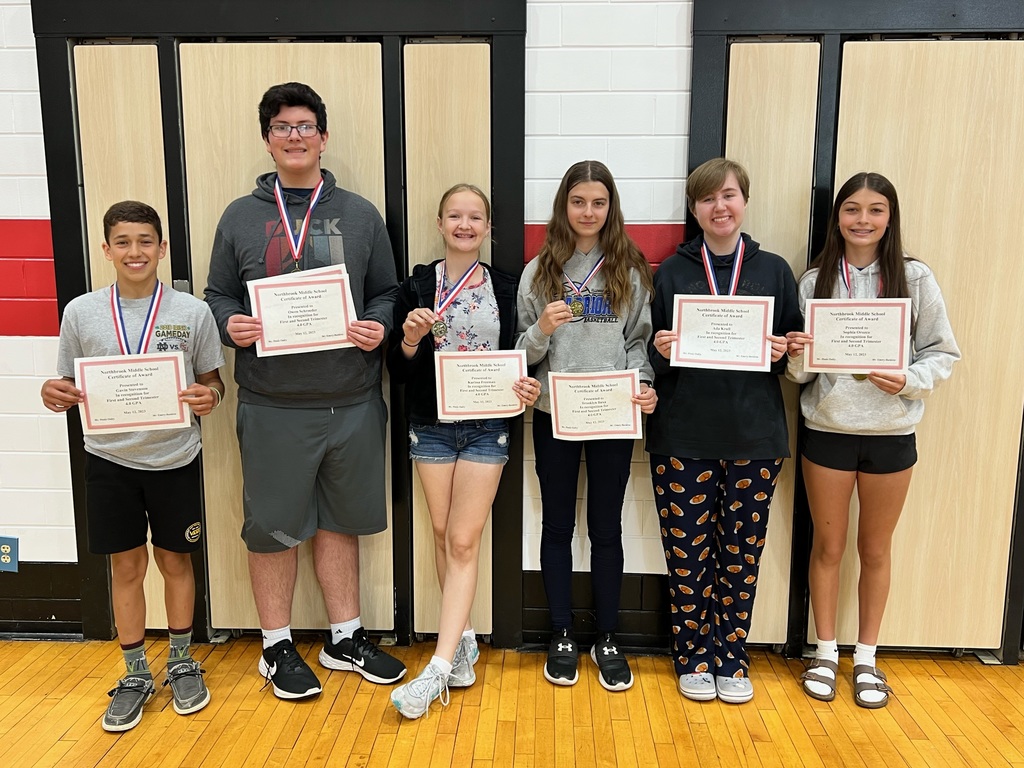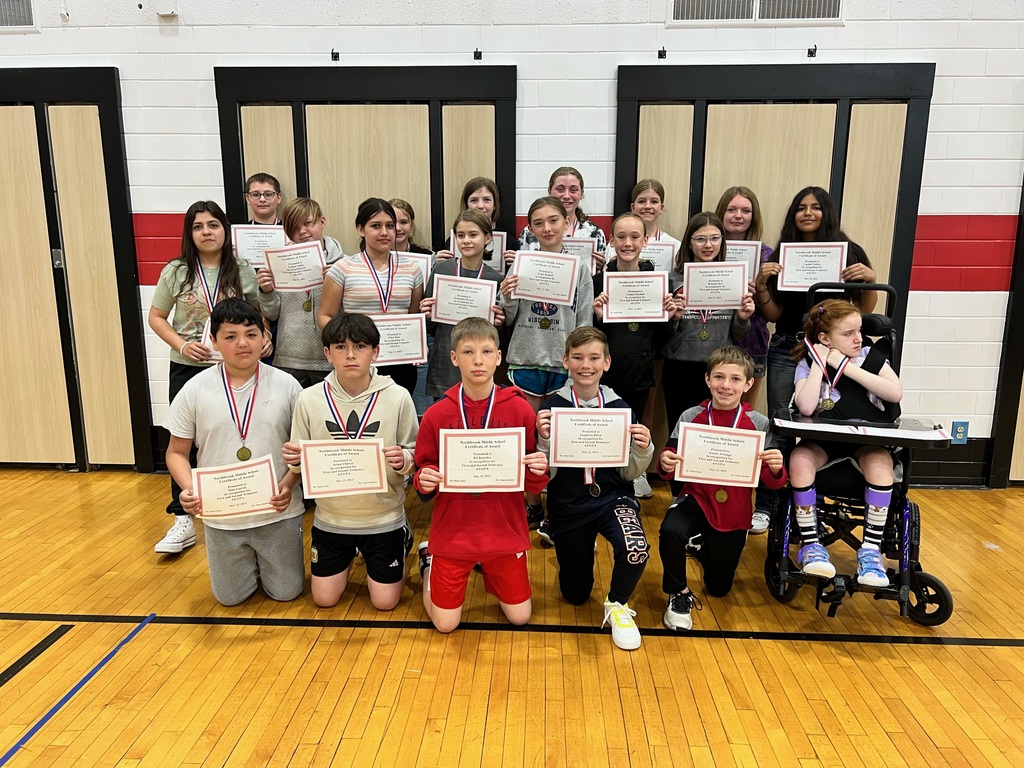 Attention incoming 7th and 8th Graders....2023-2024 Soccer Tryouts are coming up. Please see the attached flyer for details. Again this is tryouts for 2023-24 Soccer at Northbrook for all present 6th and 7th graders (next year 7th and 8th graders).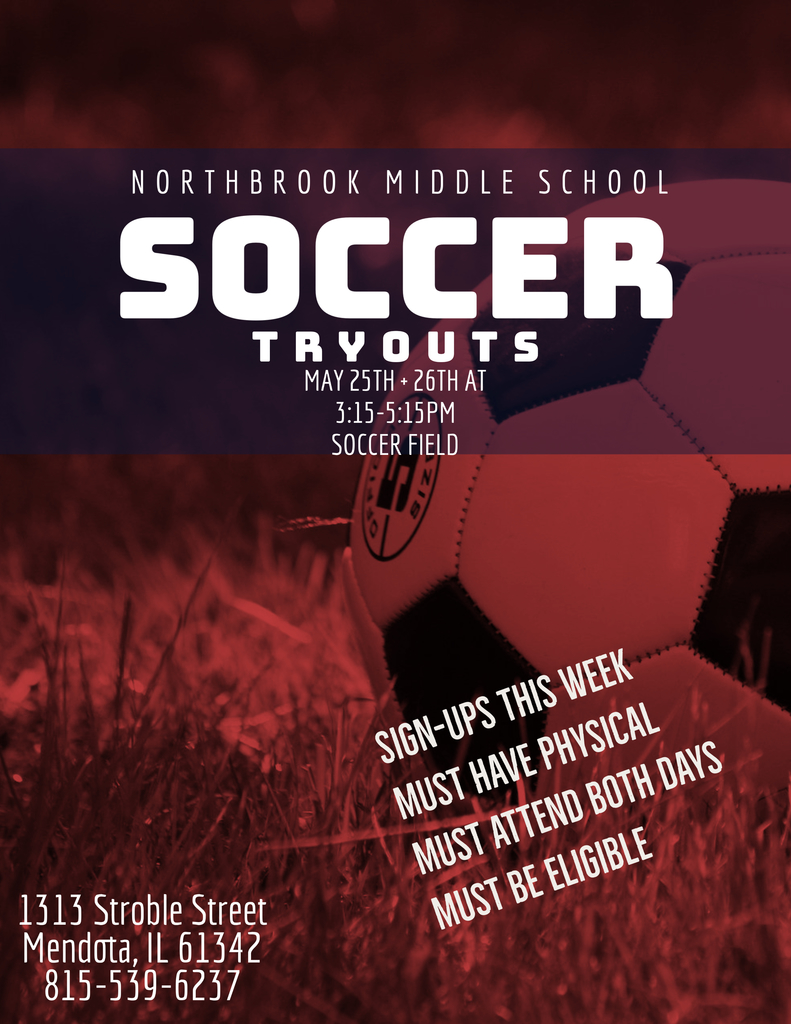 Dear Northbrook Families, Are you planning any beach vacations this summer or do you just want to avoid an untimely death by shark? Northbrook Middle School's Drama Club production of "Everyone Gets Eaten By Sharks" will provide you with tips and tricks to avoid being eaten by sharks for as long as possible! Adventure Dan and Sweet Bonnie narrate this silly comedy that gives outlandish advice on how to put off meeting your untimely demise. Show times: Wednesday May 10 @ 6:00 pm Thursday May 11 @ 6:00 pm Admission is $4. Please come support our hardworking Drama Club students, have a laugh, and learn some valuable, life-saving knowledge!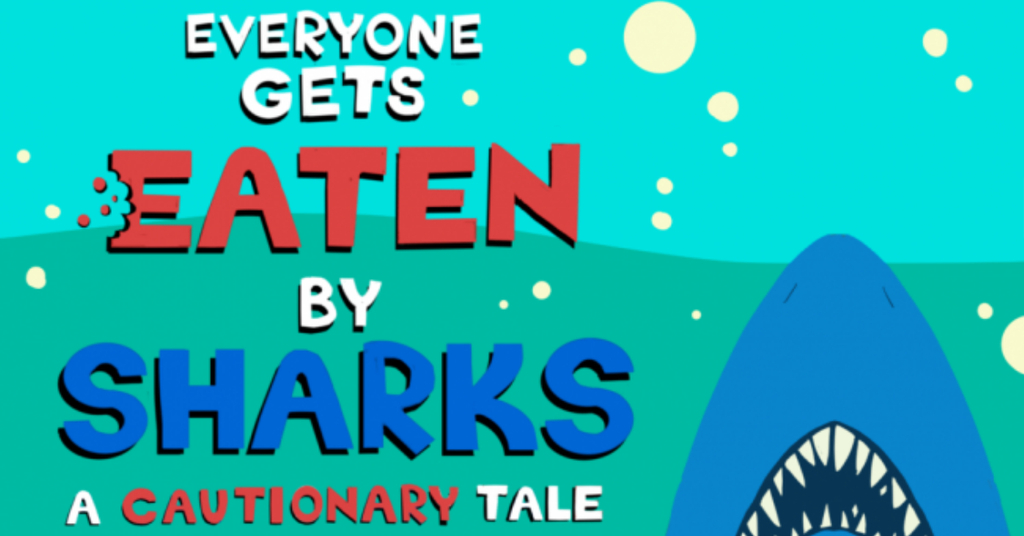 This is a Reminder that Wednesday, April 26 is an early Dismissal at 11:35. Este es un recordatorio de que el miércoles 26 de abril hay una salida temprana a las 11:35.

Happy Friday all! The time has flown by and the 2023-2024 school year is coming up fast!! Monday April 24th online registration will go live on TeacherEase. Attached you will find step by step directions to register along with some AMAZING news regarding lunch and breakfast at 289! We hope you have a great weekend!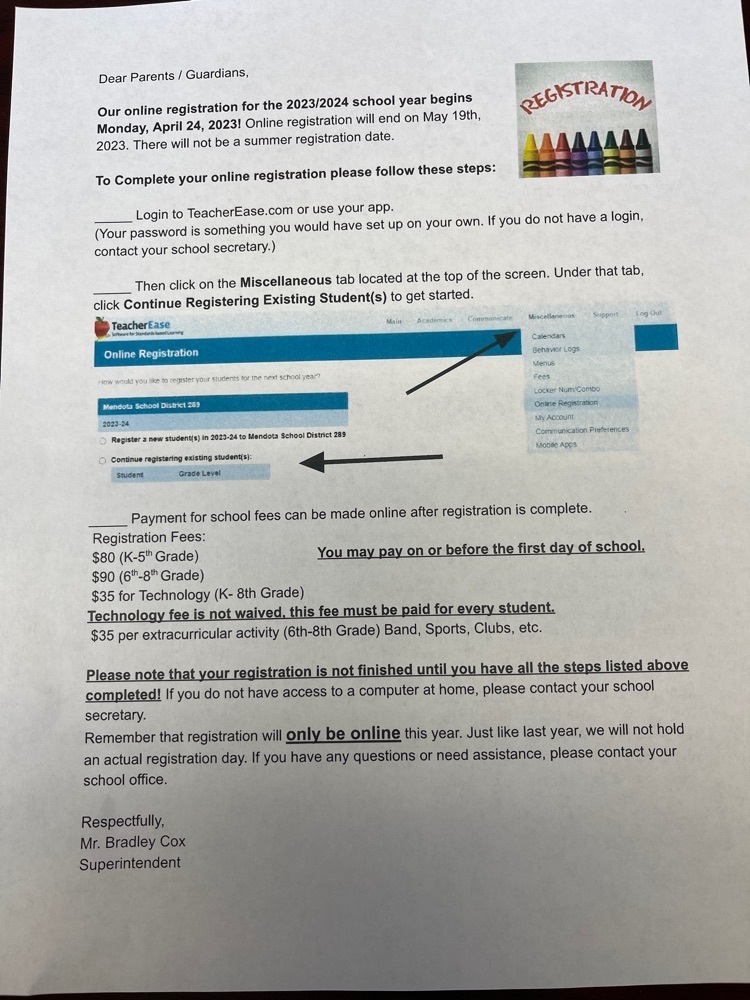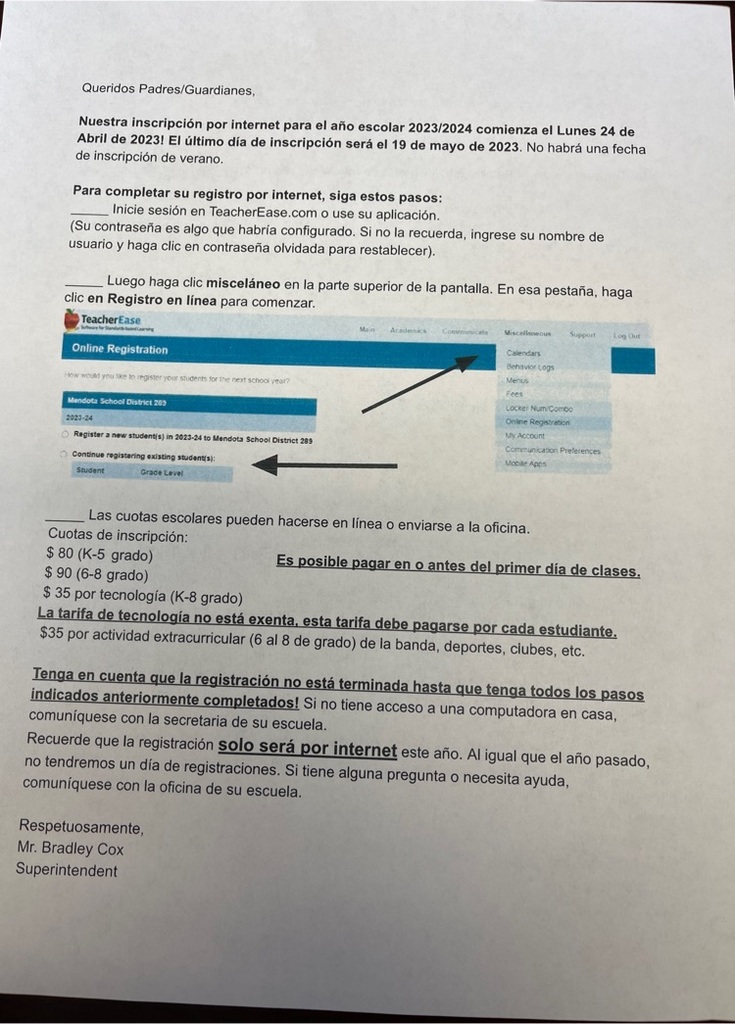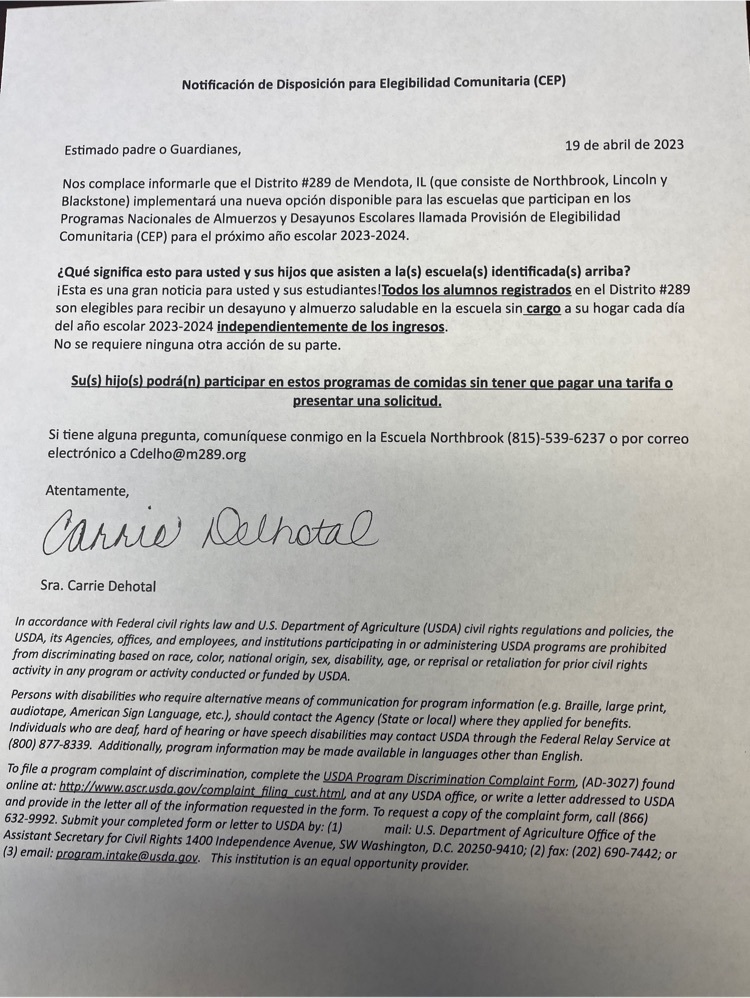 Mendota District #289 will have a 2 hour delay start today, April 5th due to weather. There will be no AM Pre-k. Stay safe.

Attention families Mendota 289 will be dismissing at 12:45pm today 3/31 due to the impending weather! There is no afternoon PreK today 3/31 Please stay safe out there!


Arbor Management our meal provider wants to share a message... Join us Next Week for National School Breakfast Week... Win prizes! Giveaways! Surprise menu items!!!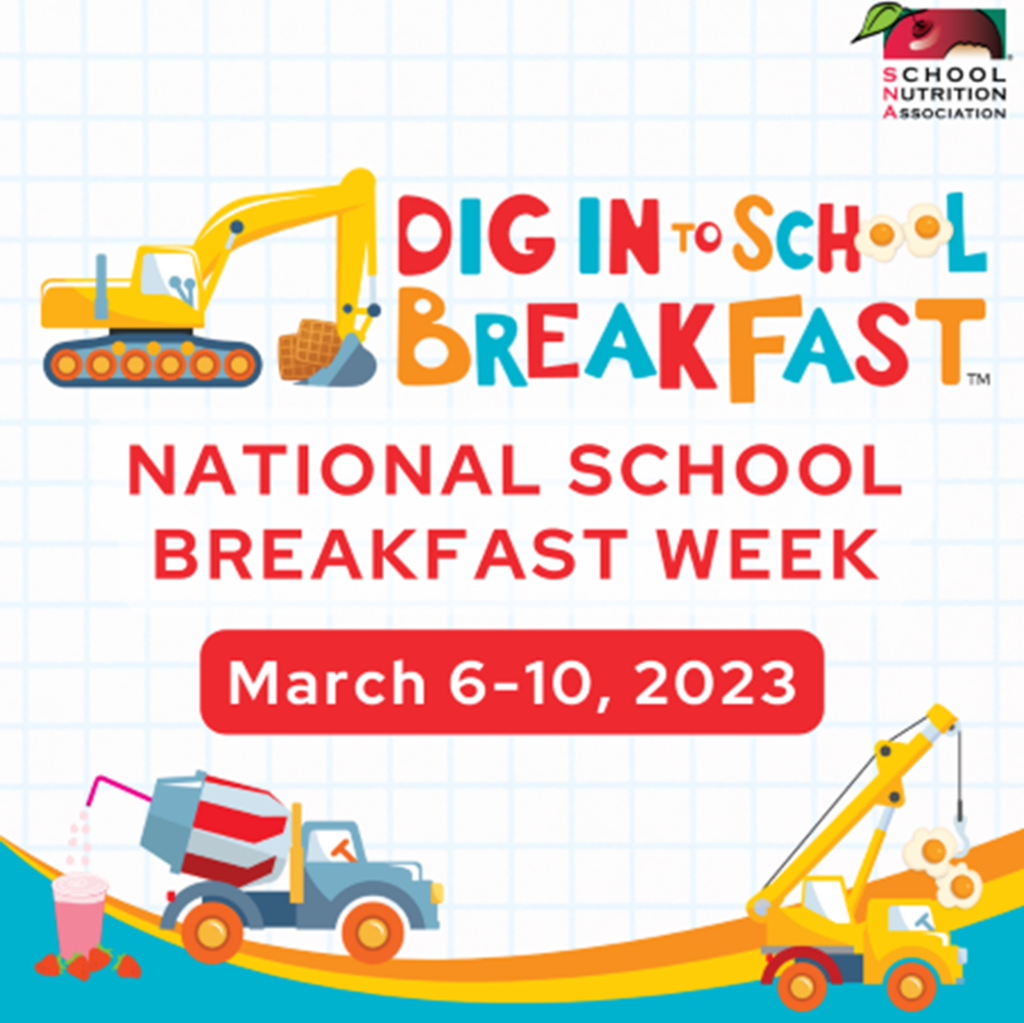 Reminder that there is no school for Mendota #289 students on Friday, March 3rd and Monday, March 6th. ~~~~~~~~~~~~~ Recordatorio de que no habrá clases para los estudiantes de Mendota #289 el viernes, 3 de marzo y el lunes 6 de marzo.

**Menu Change** Monday (2/27) and Tuesday's (2/28) menu days have been flip-flopped. Monday will now be Chili Cheese dogs and Tuesday will be chicken.

Attention Mendota Elementary 289 Families next week we have our annual P/T Conferences. They will be taking place at your student's building from 3:30 - 7:00 pm on Mon and Weds. Please see the attached flyer for dates and times.

District 289 is seeking a candidate for the position of Administrative Assistant to the Superintendent. This position is a 12 month, full-time position, with benefits including health and life insurance.  Basic secretarial responsibilities, maintaining personnel files, the board of education responsibilities, student information, teacher certification, and employment record keeping. A high level of confidentiality is required with this position. Work hours 7:30 a.m. to 4:00 p.m. Monday through Friday. Paid Holidays are included. Bilingual preferred. Hourly salary $17.00 to $19.00 depending on experience.  Click the link below to apply.
https://a1-8.applitrack.com/lasalle/onlineapp/JobPostings/view.asp?choosedistrict=true&applitrackclient=38132